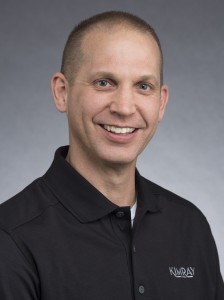 Derek Reeves- President of the Make A Difference Foundation
Derek Reeves began his career at Kimray in the welding department in 1994. After ten years of welding, he moved to the scheduling department, and is currently the Scheduling supervisor.
During his long tenure at Kimray, Derek has built friendships with many employees and feels that Kimray is extended family to him. The Christian values of the company and the deep character of employees are two aspects of Kimray that Derek appreciates.
Derek says, "I believe in the Make a Difference Foundation because it gives employees the opportunity to help each other in the face of hardships and tragedies."
He is a graduate of University of Central Ok, and an active member of First Baptist Church Choctaw serving in the children's, adult and fitness ministries. Derek enjoys staying active with his family and recently completed his first full marathon.
---
Bruce Barteaux- Treasurer of the Make A Difference Foundation
Bruce came to Kimray January of 2013. Prior to coming to Kimray, Bruce has served as the Vice President of Scope Ministries International from February 2003 through December 2005 and then as President of Scope Ministries from January 2006 till December 2012. He also carried responsibilities as a Biblical Counselor and class instructor. Bruce continues to teach classes at Scope and serves as an advisor to the leadership and Board of Directors.
Over the years Bruce has volunteered in many opportunities through his church and most particularly as a Chaplain with the Billy Graham Rapid Response Team in major disasters. His first experience in this area was in New York City just a few days after 9/11.
"I believe strongly in the mission of Kimray to 'Make a Difference in the Lives of those we serve.' The Chaplaincy component of Kimray's Body, Mind and Soul wellness program is a vital part of that objective."
Bruce is an avid outdoorsman and enjoys riding his motorcycle, fly-fishing and shooting sports. He is a skilled carpenter and loves building furniture. He has five children and lives with his wife, Donna, in Jones, Oklahoma.
---
Shad Glass – Make A Difference Foundation
Shad Glass serves as VP of Human Resources & Organizational Development for Kimray, Inc.
Shad volunteers his time with a number of organizations that serve the community for real and positive change. He currently serves on the Central Oklahoma Workforce Investment Board (COWIB) whose goal is to advance economic development in Central Oklahoma by leading a demand driven workforce system. Shad also has the privilege of serving on the Oklahoma Baptist University's, MBA energy advisory Board. He is also a member of the Human Rights Committee for Goodwill Industries. In 2013 Shad was asked to serve on the For Youth Initiative Board (FYI) whose mission is to improve the economic, social and cultural future of Oklahoma by increasing high school graduation rates. For the past few years he has had the privilege of participating as an Ethics judge for the State Student Ethics Bowl.
He and his high school sweetheart, Janae, have been married for 13 years and have a daughter named Lynly.